This website content is ©The Whitewater Benefice, 2023, unless otherwise stated.
The Whitewater Benefice comprises of: Parish of Hook charity 1183688 and the Parish of HMR charity 1132735. This website is developed & produced by the Parish of Hook on behalf of the Whitewater Benefice.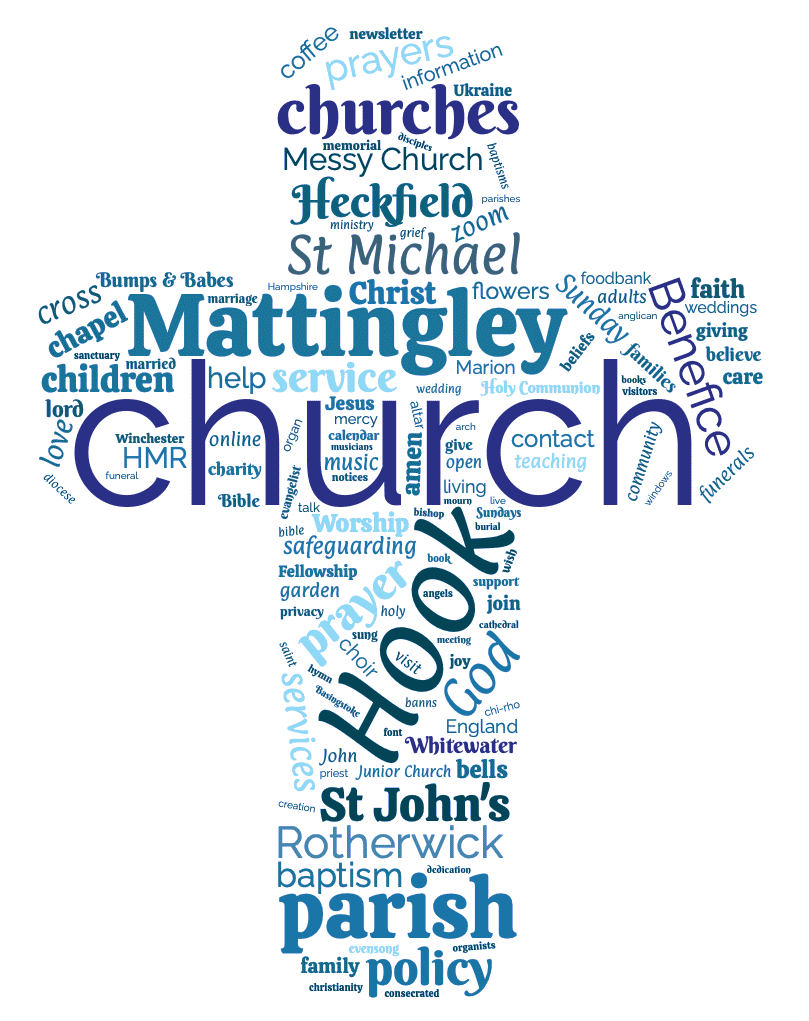 All images used on this website are either rights-free, used by permission, or owned by the author. Sources of photographs include pixabay, Anna Shergold and members of our churches. If we have included one of your photographs, we usually will have a creditation on the page or as part of the page source. We have attempted to obtain permission to use any copyright material included on this site. If we have inadvertently used material without acknowledgement, then we apologise and will correct this as soon as possible after notification.
Although we have attempted to get permission of those included in any photographs, if you are not happy with any photographs in which you have been included please notify us and we will remove them from publication.
The PCC of Hook has CCLI 1378112 (Music used by permission of the performers under CCLI licence 1378112, OneLicense A-641368 and PRS LOML LE-0023927). Any extracts from services are from 'Common Worship, Services and Prayers for the Church of England' © The Archbishops' Council 2000 and also 2012 (Eucharistic prayers with children present), Church House Publishing unless otherwise specified. Bible readings are from the New International Version – UK (NIVUK) Holy Bible, New International Version® Anglicized, NIV® Copyright © 1979, 1984, 2011 by Biblica, Inc.® Used by permission.
The historical information with respect to the Churches in the benefice is based on researches of Margaret Grey, Neil Vigers, Anna Shergold, Tony Heath and WJ James.
References
A History of the County of Hampshire: Volume 4, 1911, William Page (editor)
This website is powered by Church Edit. Our email is powered by MailChimp. Please see our Privacy Policy page for details of our privacy policy.
Our Comms team who maintain this website are all volunteers, and if you are interested in helping us, or if you have any comments or questions about this website, please email webmaster@whitewaterchurches.co.uk.