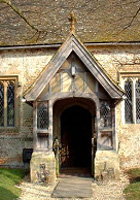 Rotherwick is a small village to the north west of Hook, in Hampshire. The Church in Rotherwick dates from the 13th Century, and the tower was added in the 18th century. A recent addition is a new stained glass window to celebrate the tri-centenary of the neighbouring Whitewater C of E Primary school in 2012.
Rotherwick church is usually open from 10am until 4pm, however, church opening is managed by volunteers and subject to change at short notice. If you are making a special visit to the church, please check with the Benefice office. Rotherwick church is one of the 4 churches in the Benefice, the Church office is at St John's in Hook and is open weekday mornings from 9:30-12 noon. Please view Safeguarding for details of our safeguarding policies and contacts. If you are visiting Rotherwick church for the first time, please check out our Accessibility page.
Where to find Rotherwick Church
Rotherwick Church,
The Street
Rotherwick
RG27 9BG
The Church is near to the Whitewater Primary School.