Our Father's house has many rooms...
The facilities at St John's are available to hire, either for a one-off event or for regular activities. The facilities are used as a meeting point for local residents of all ages and interests - currently two choirs, St John's Pre-School, the Morris Men, Brownies and Rainbows, language classes, meetings, social events and private parties.
You can make a booking by completing our online form or by telephoning the Benefice Office on 01256 760169. Any one who makes a booking will also need to agree to our Terms & Conditions of Hire (St John's Hook).
There is a public car park almost opposite the Church. Parking on the grass (outside or within the Church boundary) is not permitted. There may be other users of the Church, your co-operation will be appreciated.
Church - Ground Floor
Church
Parlour

seats around 200 people
hearing aid loop
sound amplification system
car park for approx. 20 cars
Disabled access

5.10m x 3.7m
TV and video
children's toys in Toy Cupboard
seats 12 in a circle easily
two comfortable sofas

Narthex
Kitchen
The main area to the side of the church, part of the Coffee Shop during the week.

15.2m x 2.8m
holds around 80 people (standing)
disabled access to the ground floor
disabled toilet
ladies and gents toilets

2.35m x 2.55m
double oven, electric cooker, microwave
hot water heater
crockery, knives & forks for around 50 people

Lady Chapel
Coffee Shop

seats 12 people comfortably

Part of the Narthex, the smaller area next to the kitchen.

5m x 3m
seats 12 people at tables
Church - First Floor
The Solar Room

6.1m x 4.9m
2 sets of double doors opening on to the small balcony
seats at least 38 - 40 for a meeting
kitchenette with kettle, cups and saucers
tables and chairs

The Chapter
Choir Room

2.6m x 2.9m
suitable for small groups
comfortably seats at least 8 people

5.6m x 3.6m
seats about 20 - 25 people
Church Hall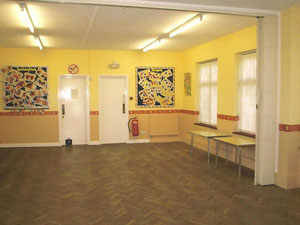 5.3m x 8.5m
ladies & gents toilets
kitchen with hot water heater and fridge
tables and chairs
screen may be brought across the split the room in half
(Used by St John's Pre-School during the week)
Click here to view hire charges. You can make a booking by completing our online form or by telephoning the Benefice Office on 01256 760169.