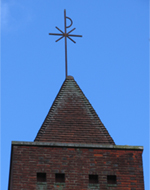 St John the Evangelist (or more commonly known as St John's) is in the centre of Hook, Hampshire. It is a brick church which was built in the 1930s and was designed by Edward Maufe the year before he designed Guildford Cathedral. Click here to find out more about St John's. St John's was extended in the early 1990s to provide the addition of the Lady Chapel, the Benefice Office, kitchen and a variety of meeting rooms, which are available to hire.
St John's in Hook is one of the four churches in the benefice, and is the home of the Benefice Office and the Coffee Shop. The Benefice Office at St John's is open most days from 9:30 to 12. The Lady Chapel is open daily for prayer. The main church is usually just open for services or for events that are at St John's.
If you are visiting St John's for the first time, please check out our Accessibility page. Please view Safeguarding for details of our safeguarding policies and contacts.
Where to find St John's, Hook
St John's Church
London Road
Hook, Hampshire
RG27 9EG
St John's is along side the A30 (London Road) in the centre of Hook. There is parking at the church, or parking is available just across the road in the public car park.

View Larger Map at Google Maps